When you log into Dovetail Metrics, you will see three different sets of data to view for your podcast: Reach, Demographics, and Devices.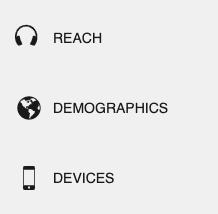 Reach
The data displayed here will tell you how many times your show has been downloaded. You will be able to view all-time downloads or downloads over a specific time period for all your episodes or for a select set of episodes.
The Drop Day view allows you to see the download numbers for your episodes on each day after they drop.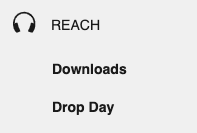 Demographics
The Demographics category will tell you where people are listening from. The Country subcategory will show you a global map highlighting the countries where downloads came from. If you click on any of the countries listed below the map, a drop-down will appear with more granular metrics for the regions within that country.
The Metro view is specific to the United States. This will show download numbers and download location for each metro region in the United States.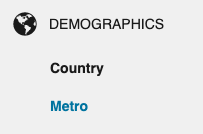 Devices
This category will show you how people are listening to your podcast.
The Operating System view will show you if people are listening on iOS, Android, Windows, MacOS through their browser, etc.
The App & Browser view will show you how many downloads are coming from specific apps and browsers.
Form Factor will show you what kind of device is hosting the apps or operating systems listed above (mobile, desktop, smart watch, etc).