We're so happy you decided to post your story on PRX. Can't wait to hear it!
Prepare thyself AND thy audio!
Your audio should be in the following format:
MP2 file
Sample rate: 44.1 kHz
Bit rate: 128 kbps per channel.

If you decide to create a mono MP2, it will be 128 kbps in total. But if you create a stereo (or joint stereo) MP2, the resulting file will be 256 kbps (128 kbps for each channel) in total.
Stereo file (recommended)
Create a Story
Login to exchange.prx.org, head to My PRX and click Create New Piece.
At the top of the page you will see a gray browser box. You may see a prompt to update your Flash player: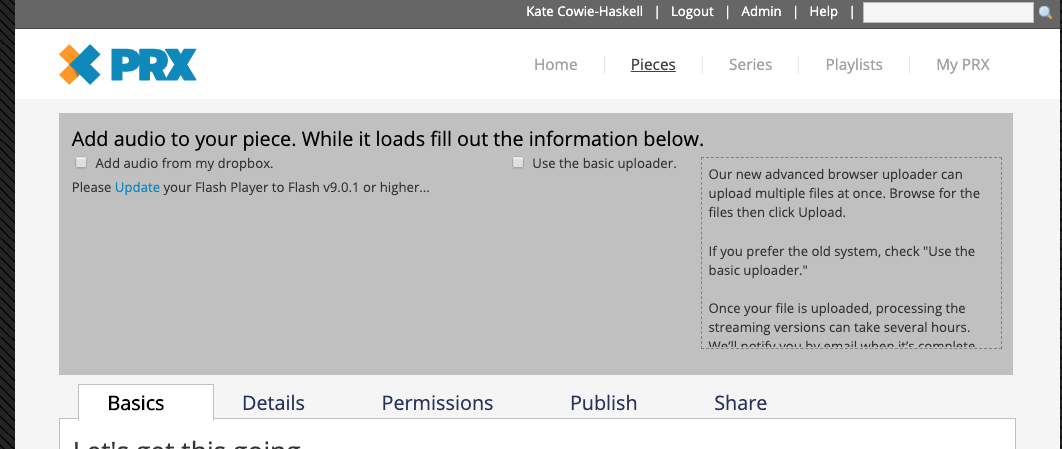 We recommend allowing Flash Player to run so you can use our advanced uploader.

To upload your MP2 file, click browse and search for your file on your computer.
Click upload.
Start filling out your Story
You'll need a title, an interesting image and a short description. Read our tips on writing a good title. 
Fill out the rest of the information as best as you can. Stories that are filled out well look nicer and are more searchable, so spend a little time to fill out as much as you can. Click "Save and Continue" as you move through the tabs of information.
Select Your Pricing
You can choose to offer your story for 0 points but we recommend you choose the default point price of 5 points/min. If your story is shorter or you'd like to charge more, you can double or triple your points. Read more about our payment policy.
Publish!
On the last tab of the piece create page, you'll see a preview of what your piece will look like. Above that, there will be a little gray button that says Publish. If everything looks swell to you, go ahead and click that little guy.
Your story will now be published on PRX. Congrats, you did it!
Share
You successfully posted your story, but your work doesn't end there! Now you have to let the masses know. This is a great opportunity to email your piece out to friends, do some targeted marketing to program directors, and post your story on social media sites. Celebrate a little then read more about marketing your work.